Since 1974 the journal has been included in the
Ulrich's Periodical Directory database
and is indexed and reviewed in the following international databases:
Chemical Abstracts
(since 1974),
World Textile Abstracts
(since 1994),
SCOPUS and VINITI
(since 2006),
Science Citation Index Expanded (SCIE)
,
Materials Science Citation Index®
and
Journal Citation Reports/Science Edition
(since 2007). Since 2009 the journal has been included in
Toga
database and since 2014-2015 in
ProQuest
and
EBSCO
database. Moreover, the journal is indexed by
CrossRef, starting with no. 1/2017
having the title DOI:
https://doi.org/10.35530/IT
.
The impact factor of Industria Textila journal calculated by Web of Science/Clarivate Analytics is 0.828 in 2021, compared to 0.784 in 2020 and AIS is 0.070 in 2021.
The CiteScore of Industria Textila journal calculated by Scopus, Elsevier is 1.3 in 2021, compared to 1.1 in 2020.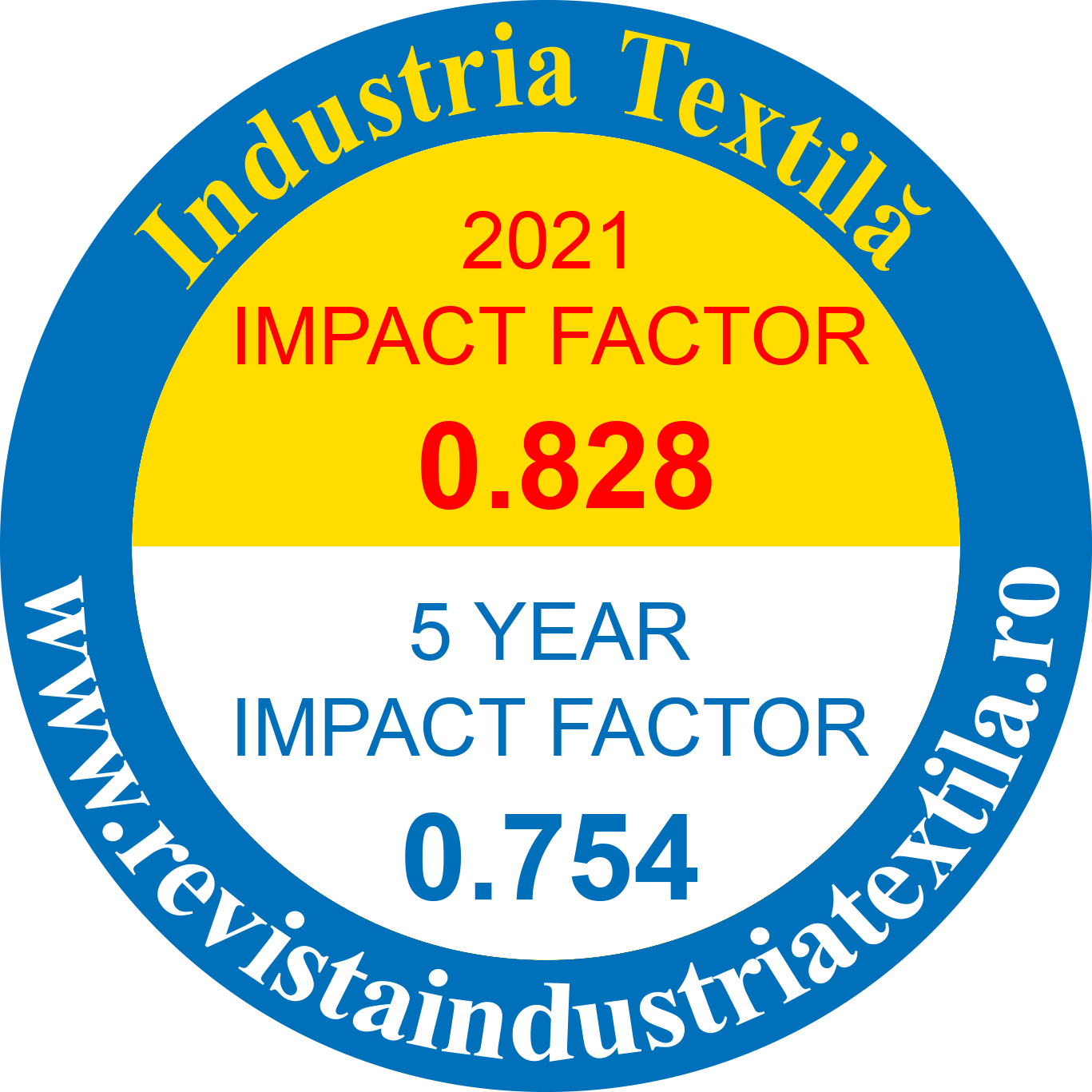 Industria Textila journal - the only Romanian journal in the textile field and WOS/ISI Thomson Reuters indexed.
Having a long tradition (over 70 years of existence), the journal is addressed to specialists in the textile sector - raw materials, spinning, weaving, knitting, chemical technology, clothing and related fields: laboratory apparatus and equipment for mechanical and chemical processing, chemicals and auxiliaries, computer aided design and computer aided manufacturing, management and marketing systems etc.
Currently the journal is published in 6 issues / year, but the number and the quality of articles published - containing information about the textile field and the related fields - management, marketing, chemistry, leather – has increased from one year to another. All articles are published in English, accompanied by abstracts in English and Romanian.
Industria Textila journal
publishes articles from all over the world: